Sligo Volunteer Centre is run by 4 part-time staff.and has the support of a voluntary Board of Management and some regular support volunteers.
The Centre provides a vital link between people interested in volunteering and non-profit groups looking for volunteers,  advertising for volunteers on behalf of 300+ non-profit groups in Sligo and referring interested people to these groups.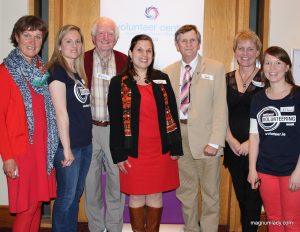 Volunteers:
You can find out about the many ways to volunteer in Sligo town and county.
Research our database of volunteering opportunities.
Get advice and support on choosing volunteer opportunities.
Get general advice on volunteering.
Attend a one-to-one appointment; a small group information workshop or  simply apply on-line and get advice over the phone.
Our service is free
Organisations:
At Sligo Volunteer Centre, community organisations which involve or need volunteers can….
Avail of our free service where we promote and advertise your volunteer vacancy through our database website, facebook, and twitter pages, countywide posters and monthly email updates..
Get quality training about finding, keeping and managing volunteers.
Get on-going information, advice and support on working with your volunteers.
Get help in putting your volunteer roles and putting volunteer policies and procedures in place.
Get support to develop a voluntary Volunteer Coordinator role within your organisation.
Get a Garda Vetting Service – for organisations who do not have access to their own Authorised Signatory (cost involved)
Request presentations about volunteering and volunteering opportunities e.g. large corporate organisations or schools or colleges.
To find out more about Sligo Volunteer Centre go to http://www.volunteersligo.ie/, call 071-911 1042 or email info@volunteersligo.ie
To become a monthly featured member please complete this template and email to ppn@sligococo.ie. Members will be selected on a first come first served basis, provided all the correct information is given, until we have filled a full 12 month cycle.