Sligo PPN Featured Members
When Sligo PPN put out the call to give one of our member groups the opportunity to develop their own promotional video, we received a number of applications which highlighted the amazing work that is happening across the Sligo community. While we could not select all applications for the video initiative, we did want to try and find a way to showcase some of this great community activity.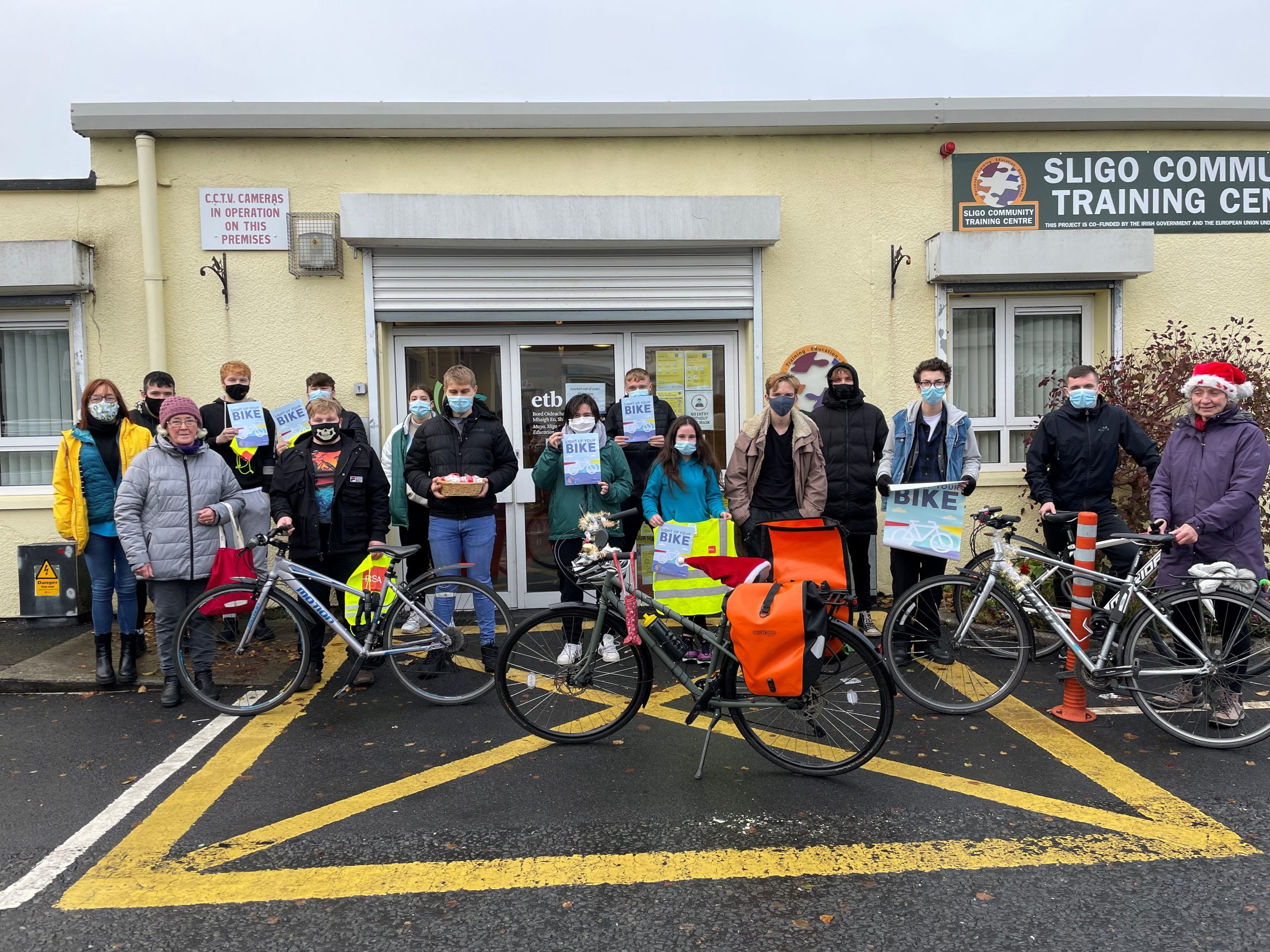 Sligo Cycle Campaign
We are a cycling-loving, community-based, voluntary group whose aim is to make cycling in Sligo town and county safe, enjoyable and popular for people of all ages and abilities.
We advocate for safer, healthier and quieter roads and streets. We are a voice for individuals and families who like to walk, pedal, wheel, scoot and use public transport.……….
To this end we lobby Sligo Co co and make submissions on relevant topics. We organise family and community cycles from time to time. Our PRO Gemma Woods collaborated with the Parents' Association and Principal to set up the successful Strandhill Cycle Bus.
In 2021 we held Community Cycles for World Bicycle day in June and during Bike Week in September.
In recent months we have focussed on building a broad alliance of support for walking and cycling infrastructure in Sligo. To that end we produced cycling posters (copies attached) which we presented to representatives of Business, Education and Environment Groups. (See photos)
We have also presented bike lights and Light up your Bike Posters to various youth groups.
In terms of events between now and the end of January, because of the Covid situation our plans are not nailed down but our ideas are
A further presentation of Light Up your Bike Posters and bike lights to a Community Group in liaison with the Community Garda
A "NewYearTwoWheels" Community Cycle in early January
Continuation of the Strandhill Cycle Bus which is run by the parents with the involvement of our PRO
Ongoing engagement to ensure that the Vision for Sligo 2030, the Draft County Development Plan and the Local Authority Climate Action Plan all have meaningful commitments to enabling active and sustainable travel.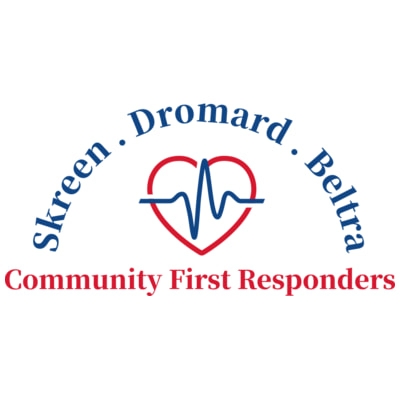 Elaine Kelly is the founder and coordinator of Skreen/Dromard/Beltra Community First Responder Group. 
Due to Covid-19, we had a slow and complicated start. We hosted meetings over zoom earlier this year, we undertook initial training in May of this year and launched as a National Ambulance Service affiliated CFR Group in September. 
We are a group of trained volunteers who respond to certain medical emergencies within our area while a National Ambulance Service Resource is mobile to the scene. We were lucky to be awarded €2,800 from Sligo PPN Community Enhancement Grant this year. We have also been fundraising and have gathered €10,000 in total. We have used this money to purchase 4 public access defibrillators and unlocked, outdoor heated cabinets. We have supplied all 12 of our responders with hi vis jackets, ppe kits and responder bags containing essential equipment. We are currently trying to raise more money so that we can purchase training equipment such as mankins, training defibrillators, a screen, projector etc.
When someone calls 999/112 and informs the call taker that a patient is choking / unconscious / not breathing effectively or not breathing at all, a text message is automatically sent to all responders within the area, at the same time as a National Ambulance Service resource is being dispatched. Prior to Covid-19, CFR's were also alerted to stroke and chest pain calls, it is envisaged that will be happen again once restrictions are eased. Once the responders receive the text message alerting them to the call, they sit into their car, collect the nearest defibrillator and make their way to the emergency. The CFR's communicate with each other to arrange how many will attend, who will collect the defibrillator, who will meet the ambulance etc.
The CFR's provide life saving care such as CPR to the patient while a National Ambulance Service resource makes it way to the scene. CFR's are not intended to replace an ambulance crew at all, we enhance the patients care and outcome until more help arrives. All of our volunteers are trained to a high standard. Since launching as a lice CFR Group, we have to train for at least 1 hour each month to keep all of our skills up to date. We train in CPR, choking, strokes, chest pain, how to deal with a patient, how to speak to a patients family, paperwork, radio communications, handing over to an ambulance crew, donning and doffing ppe on a regular basis. Our responders have to complete online training and exams as as well as practical assessments. 
If restrictions allow, we plan to start training other members within our community in CPR and how to use a defibrillator in the new year. We would love to take part in this project and put together a video highlighting our work. We want to promote the group and advertise what we do. We have been allowed to train indoors as this is essential training but we are trying to move our training outdoors as unfortunately quite a lot of cardiac arrests occur outdoors or in farmyards. We want to train our responders to deal with all situations.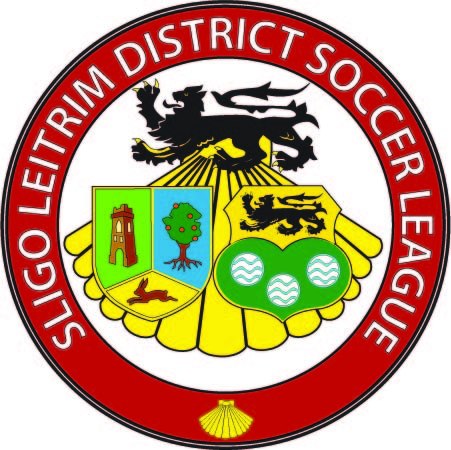 Sligo Leitrim District Soccer league
Sligo Leitrim District Soccer league has just completed a 400k development at the Ray Mac Sharry Complex Cranmore Road Sligo.
This state of the art Astro FIFA approved pitch opened in late August 2021.
Since opening it is used every night and weekends we cater for over 3000 youths and 800 Registered Junior Players.
Underage Boys and Girls compete every Monday Wednesday Friday and Saturday mornings.
Tuesday Thursday Saturday nights and Sunday mornings see the Juniors competing.
Many others in the private band public sector also avail of the facilities as does the Football Association of Ireland for coaching and Development.
The existing floodlights were erected in 2002 and are not not cost effective and require an upgrade to LED and an approximate cost of 80k this along with additional ground works is phase 2 which we hope to deliver on in 2022.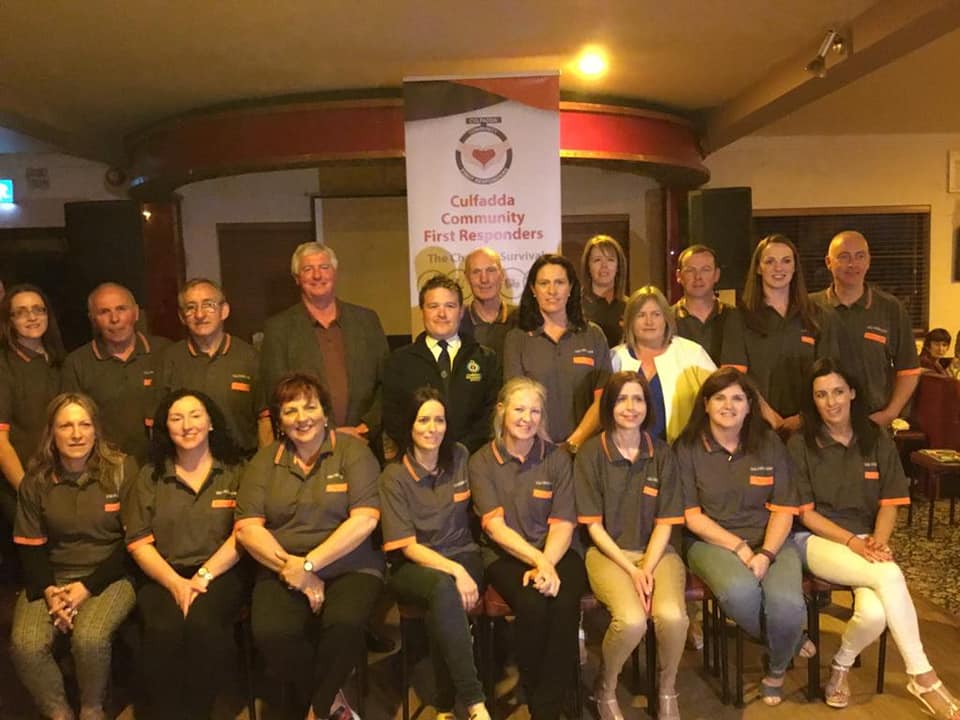 The Culfadda Community First Responder Group is a voluntary group linked with the National Ambulance Service (NAS).This group is governed by the NAS Community First Responder Scheme (NASCG007-See Attached). All responders are trained and certified to the Pre Hospital Emergency Care Council (PHECC) Cardiac First Responder National Standards.
Once a 999 call is made for a person suffering from Cardaic Arrest or Choking within a 5km radius of Culfadda village, the Community First Responders are immediately notified by text from the National Emergency Operations Centre (NEOC) of the local emergency. The First Responders then immediately respond to the call and provide emergency care in the form of CPR and use of an Automated External Defibrillator (AED) on the patient until Ambulance Service arrive.
 In March 2020, all Community First Responder Groups were stood down by the National Ambulance Service as a consequence of COVID 19. All groups remained off call and awaited further guidance. In December 2020, the NAS released the Post COVID 19 Reactivation Policy for Community First Responders (See attached). Following the release of this document, reactivation of the Culfadda Community First Responders was discussed both at committee level and within the wider group itself. A COVID 19 risk assessment of all 25 members was undertaken and weekly zoom meetings took place. Following this assessment, 15 of our members met the criteria to volunteer for "on call" service again in accordance with the NAS Post COVID Reactivation Policy. Since January 2021, these 15 members have undertaken rigorous online training in the form of Critical Incident Stress Management, Infection Control, HIQA Standards, Risk Assessment, Decontamination Post Call, Hand Hygiene and PPE training. Since February the group have attended workshops and undertaken practical assessments under the direction of National Ambulance Service Community Engagement Officer to ensure each member is trained to the same standard of PPE as that of the National Ambulance Service Personnel. In essence, it is the requirement that each First Responder treat every patient as a COVID 19 positive case and hence are required to wear the same level of PPE as the Ambulance Personnel.
 "Time is of the essence in a cardiac arrest situation and considering that a person's chance of survival decreases by 10% for every minute without CPR, then the survival chances for people suffering a cardiac arrest in our rural locality are really quite dismal without timely intervention before the arrival of the National Ambulance Service"
"Those odds can be reversed if training, education and resources are made available to members of the local community, and that's precisely what Culfadda CFR group have  set out to do"
Working within the framework guidelines set by the National Ambulance Service Community First Responder Scheme, the Culfadda Group consists of local volunteers all of whom are now trained in CPR and the use of Defibrillators.
It means that once a 999 call is made to Ambulance Control from the Culfadda catchment area, a text alert is activa giving essential information such as Eircode and/or address of the patient, as well as the age and condition of the person requiring assistance.
 The text message goes to all of the first responder phones on the Culfadda Community First Responder Group, and the trained responders swing into action, bringing life-saving equipment such as defibrillator and other emergency equipment to the scene of the incident, saving vital time in the battle to preserve someone's life.
The first responders maintain contact with ambulance control and provide the necessary emergency care until the ambulance services arrive at the scene, at which time the patient is handed over to the care of the professional paramedics.
"Essentially, because of the rural locations, members of the local first responder group maybe in a position to reach the patient quicker than the ambulance service, and provide the necessary care to help the patient until the professionals arrive. These minutes can be vital.
The group estimates it will cost in the region of £16,000 to get the scheme fully up and running. Local fund-raising has enabled the purchase of two defibrillators which are strategically located throughout the region, as well as training and emergency equipment. And this week almost 7,500 euro in funding was approved by Sligo LEADER allowing the group to purchase another four defibrillators for the area.
 "A huge effort has gone into making this project a reality ,and without the work and support of the committee and local community it would not have been possible. The village of Culfadda is very fortunate to have such highly committed and motivated volunteers providing such an essential service. We are fully trained and equipped to respond to every call."