Committees
Please note all elections and voting in 2020 will take place online. For a basic overview of this procedure please CLICK HERE
Sligo County Council Strategic Policy Committees
There are four Strategic Policy Committees (SPC) in Sligo County Council and it is the task of these committees to advise and assist the council in its work. The SPC system is intended to give councillors and sectoral interests an opportunity for full involvement in the policy-making process of the work of the local authority from the early stages. When the SPC system operates satisfactorily, much of the preliminary and background work, discussion and recommendation should be completed at SPC level for final consideration and ratification by the council at the monthly council meetings.
The Sligo PPN currently has 10 seats across the four Strategic Policy Committees for community representation.
Please note Melinda Swan has now taken up the post of Environment Representative on SPC1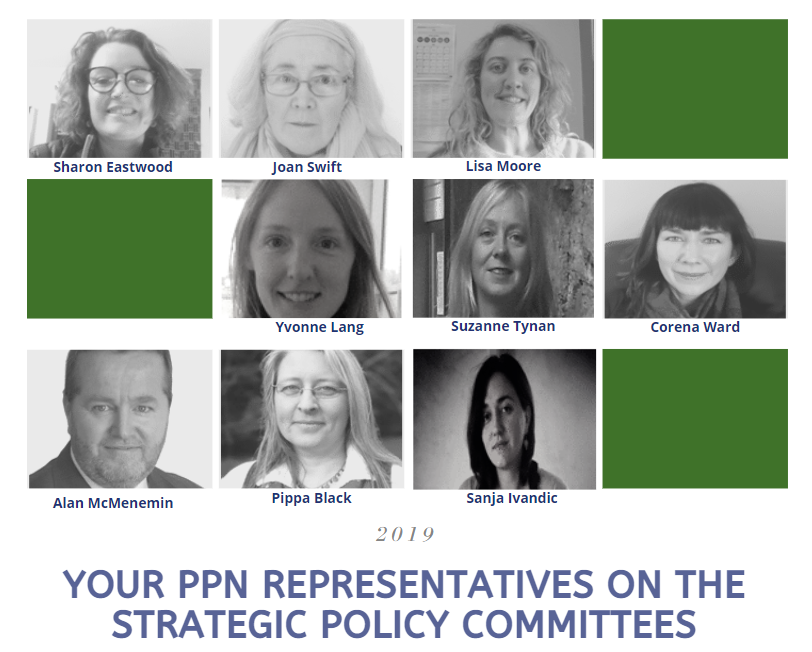 Sligo Independent Evaluation Committee –
Meet your Rep Sharon Boles and substitutes
Public Arts Steering Committee –
The Sligo LCDC was established in 2014 'for the purposes of developing, coordinating and implementing a coherent and integrated approach to local and community development' across the county. It is a statutory body with membership drawn from Sligo County Council, State agencies, the Community and Voluntary sector and the private sector.
Current PPN Reps–
Patrick Benson     patwbenson1@gmail.com   
Jean Finnerty     jfinn28672@gmail.com
Noelle O'Gara     noelleogara@gmail.com
Brendan Lynch     brendanlynch79@yahoo.ie
Connie Nell     connie.a.nell@gmail.com
Sligo Joint Policing  Committee provides a forum where the local authority and senior Garda Officers responsible for the policing the county, with the participation of Oireachtas members and community/business interests, can consult, discuss and make recommendations on matters affecting the policing of Sligo.

Place Names Committee
Place names are an important aspect of our cultural heritage. They have the ability to communicate the relationship between people and their landscape and environment. There are over 1300 townlands in County Sligo and the place names contained within them reflect the natural, built and cultural heritage of these localities.
The importance of place names in our society cannot be underestimated, and by ceasing to use, or ignoring, the rich variety of indigenous place names in County Sligo, we are in danger of losing a vital part of our heritage forever. It is also important to ensure that no duplication of place names occurs (in new developments) in order to avoid any confusion as regards postal addresses.
The Place Names Committee for Sligo is responsible for;
Naming of new developments, to include Local Authority developments.
Advising on the implementation of Part 18 of the Local Government Act, 2001 (i.e. changing
of names of areas and display of names of streets etc.)
Interpretation of existing place names.
The Place Names Committee also consider any other issues referred to it by the Sligo County Council and make appropriate recommendations.
PPN Rep : Currently under Election
Heritage Forum
The Sligo Heritage Forum will take account of all aspects of heritage in County Sligo, both built and natural. The Heritage Forum is a non-statutory advisory group established by Sligo County Council to provide advice on the preparation and implementation of the County Heritage Plan.The aim of the Heritage Forum is
"working with the community to know, value and care for Sligo's heritage and to increase awareness, appreciation and enjoyment of our heritage for all"
PPN Reps: Wendy Lyons, wendylyonssligo@gmail.com, 087 9098241 / Dr Robert Hensey / Angela Wallance
To see what groups are part of the Heritage Linkage Group please click here
Sligo Sport and Recreation Partnership aims to support increased participation in sport and active recreation throughout County Sligo. In achieving this they provide assistance in the areas of sports development, education and training and general information on sporting activities in Sligo. They work in partnership with sporting clubs, community organisations and local agencies in achieving the goal of having MORE PEOPLE, MORE ACTIVE, MORE OFTEN.
Nominated Board Members have the capacity and experience that will enable them to take a cross-sectoral and strategic view of sport and recreational development within the County and are responsible for overseeing the running of the Partnership Company.
PPN Reps: Mairead Connolly, connollymargo@gmail.com, 087 9460808 20, Joe McDonagh, joebmcdonagh@gmail.com, 087 2140586, Geraldine Delorey
Disability Consultative Committee
In 2006 it was agreed that Sligo County Council establish a Disability Consultative Committee. The actions Committee fall into the following categories:
Disability Proofing
Advocacy on behalf of people with disability
Raising Awareness – Information Provision
PPN Rep: Mark Kupczak
North West Fisheries Local Action Group (NWFLAG)
The North West Fisheries Local Action Group (NWFLAG)  region caters for Counties Mayo and Sligo. The NWFLAG region is from Killary Harbour to Mullaghmore and extends 9km from the coast. It has been allocated €1.5m for 2016 -2020 from the European Maritime & Fisheries Fund for projects in the Coastal region of the North West.
PPN Rep: Mikey Kilcullen, mikeykilcullen@gmail.com, 0872446902
Independent Evaluation Committee
Sligo Local Community Development Committee (LCDC) is the Local Action Group for delivery of the LEADER programme in Sligo. Sligo LCDC is a committee of Sligo County Council consisting of representatives from statutory and non-statutory agencies in the county. A budget of €7.6m is available for implementation of the programme in Sligo over the period up to Dec 2020. Funding will be awarded based on compliance with the approved Sligo Local Development Strategy (LDS) and the awarding body will be the LCDC or LAG. The Independent Evaluation committee (IEC)  assesses and evaluates proposals and projects for funding and comprises a panel of individuals offering expertise from appropriate sectors in accordance with the LDS and the LEADER Operating Rules.
PPN Reps: Sharon Boles / Lorna Curry
Sligo Leader Partnership Company
In 2020, for the first time, Sligo PPN were offered the opportunity to elect a representative to the board of Sligo Leader Partnership Company. This was confined to the environment college and in September Auriel Robinson was elected
For a full list of all current (April 2022) PPN representatives CLICK HERE