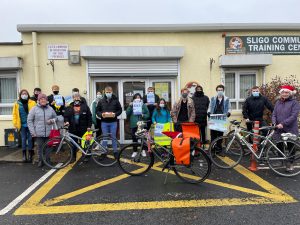 We are a cycling-loving, community-based, voluntary group whose aim is to make cycling in Sligo town and county safe, enjoyable and popular for people of all ages and abilities.
We advocate for safer, healthier and quieter roads and streets. We are a voice for individuals and families who like to walk, pedal, wheel, scoot and use public transport.……….
To this end we lobby Sligo Co co and make submissions on relevant topics. We organise family and community cycles from time to time. Our PRO Gemma Woods collaborated with the Parents' Association and Principal to set up the successful Strandhill Cycle Bus.
In 2021 we held Community Cycles for World Bicycle day in June and during Bike Week in September.
In recent months we have focussed on building a broad alliance of support for walking and cycling infrastructure in Sligo.To that end we produced cycling posters (copies attached) which we presented to representatives of Business, Education and Environment Groups. (See photos)
We have also presented bike lights and Light up your Bike Posters to various youth groups.
In terms of events between now and the end of January, because of the Covid situation our plans are not nailed down but our ideas are
A further presentation of Light Up your Bike Posters and bike lights to a Community Group in liaison with the Community Garda
A "NewYearTwoWheels" Community Cycle in early January
Continuation of the Strandhill Cycle Bus which is run by the parents with the involvement of our PRO
Ongoing engagement to ensure that the Vision for Sligo 2030, the Draft County Development Plan and the Local Authority Climate Action Plan all have meaningful commitments to enabling active and sustainable travel.