Here at Sligo PPN we were amazed, but not suprised, at the immediate and huge response of the Sligo Community to step up and help those most at need as we all adapted to life under Covid-19.
While we know that none of the volunteers who made such a difference in the lives of local people did it for recognition or even thanks, we felt that it was important to try and capture and preserve the huge contribution that the community sector did make as soon as this crisis changed life as we knew it. There is no doubt that the experience of lockdown would have been even scarier and isolating, and had more of a negative impact on the health of many people, were it not for the efforts of community volunteers – we believe this effort should be acknowledged, recorded and kept as a reminder to all.
Sligo PPN and Sligo Volunteer Centre have set up the website Step Up For Sligo (https://stepupforsligo.com/) as a portal for people to send us stories about their experience of volunteering (formally or informally) under Covid-19. Stories can take the form of short videos, images, audio or written word.
Tips For Creating Great Content
The content you create is very important to us. It will help more people become aware of the amazing work happening in our community. You will help share stories of goodness that otherwise would remain untold. We are excited to work with you!
Think of the story you want to tell. New friendships, quirky stories, impact of volunteering actions on both volunteers and the people they supported, relationships across generations etc.,
Make sure that story is the focus of the content you create – whatever format it takes.
Hold your phone steady to avoid a blurred image, tucking your elbows to your side can help with this
Hold your phone in Landscape NOT Portrait while you video
Make sure you are shooting in good light
Keep video length to about 30 seconds
Videos must be in .MP4 or .MOV format
Images should be no smaller than 796 x 447 (16:9) ratio, either portrait or landscape
Feel free to caption your videos and images if appropriate
Written content should be no longer than 1600 words, and should also include a photo
You can submit more than once, just make sure that every piece of content you create tells its own unique story.
Once you are happy with your story, you send it to stepupforsligo@gmail.com and include your Name, Age, Location, email address
We will then put your stories up on the portal and promote them via our social media channels under the campaign #stepupforsligo
Still Not Sure What to Do?
If you have a story to tell – whether as a volunteer or someone whose life was made that little bit easier because of the effort of others – but aren't sure how to go about it then simply drop an email to stepupforsligo@gmail.com and tell us a little bit about yourself and we will see how we can help you put something together.
Testimonial From Sligo County Council
Sligo County Council acknowledge the Community and Voluntary Sector "Stepping up" for Sligo.
Sligo County Council is delighted to be associated with the Step Up for Sligo Initiative. It provides an opportunity to recognise the great effort and huge response of the Sligo Community to help those most in need during the COVID 19 pandemic. Right across the county people showed acts of kindness and solidarity from small individual efforts to large scale volunteering efforts and every act counted, from carrying out shopping deliveries to providing hot meals to pharmacy collections to checking in on neighbours. The Cathaoirleach of Sligo County Council, Cllr Dara Mulvey commented that "the value of community and volunteering was shown in abundance and Step up for Sligo is a positive way to capture this good will and a positive story during a time that has been tough for all".
The Council itself played an important role in leading the Community Call initiative which saw the establishment of the COVID 19 Community Response Forum and the COVID 19 Community Support Helpline. The Forum was Chaired by the Chief Executive of Sligo County Council Ciarán Hayes who commented that "it was established to co-ordinate service delivery across the statutory and non statutory sector during the pandemic and to act as space to share information, address challenges, gaps and to avoid duplication in service delivery through collaboration".
Through the Community Support Helpline which was manned by Council staff 12 hrs a day for 7 days a week, the Council were able to respond to calls for assistance from vulnerable members of the community whose normal movements were curtailed due to the restrictions imposed by the pandemic. Through this initiative, staff of the council's Community and Economic Development Section connected with many people who "stepped up" for Sligo and who "stepped in" to help solve problems on the ground in their locality. With their intervention, council staff were able to close out cases and were assured that needs were addressed.
Across the council services a range of supports were provided over the course of the pandemic from co-ordination of local service delivery, civil defence, community supports via the community Support Helpline and supports such as grants focussed on the community and voluntary sector along with various business supports including the back to business campaign which was supported by www.sligo.ie Live, Invest, Visit.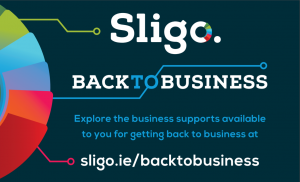 While the motive for volunteering isn't to gain recognition, it is appropriate that our local heroes are acknowledged and that the amazing work that happened in our community is noted, captured and not forgotten. Initiatives like the Community Call show how great things can happen when people come together and collaborate. Step Up for Sligo aims to provide a lasting legacy to this unique time.
Sligo County Council wish to pay tribute to the efforts of the many volunteers in this time of crisis many of whom changed their usual community support endeavour overnight to respond in a time of great need within their community, also at some personal risk to themselves.