Street Feast 2023, Ireland's annual day of street parties, community lunches, and most importantly – fun.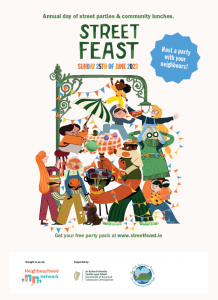 Street Feast is all about getting together with your neighbours and friends across the county to share some food and enjoy conversation and friendship. It doesn't matter if you live in an apartment or house, if its your immediate neighbours or members of a shared interest community, all you need is a space to bring people together.
In the past Feasts have been organised in front gardens, on streets and greens, in car parks, markets, sports fields, streets, laneways, local parks and community centres – the list goes on! Check out the attached case studies for ideas.
This year, parties will take place across County Sligo on Sunday 25th June, supported by Sligo PPN. We really would encourage as many of you as possible to register and make Sligo the Street Feast Hotspot for Ireland in 2023.
To help you out we are providing as much information as possible to get you started in organising your own feast.
How to register ; Its as simple as going to https://streetfeast.ie/ and clicking Register Now!
Case studies to help you decide what your Street Feast might look like
Information on available Funding, if needed, to make your Feast a success CLICK HERE
Details of what you will be provided with once your Feast is registered;
Local participants receive free DIY Packs, including bunting, invites, posters and a DIY guide providing the basics to kick-start a Street Feast event, removing the obstacles of organising a get-together.
An online event page for residents/participants to organise their feast, with email and phone support
Tailored supports from Street Feast staff with over a decade of experience behind them!
In other exciting news just for Sligo Street Feasts, this year we will also be partnering with @MagnumLady herself Val Robus who is going to help us to promote the initiative and ensure your events are seen far and wide through the hugely successful campaigns #heartofsligo / #heartofireland