With approximately 15,000 clubs across the island, sports clubs can play a vital role in the conservation of our biodiversity. The newest publication from the All-Ireland Pollinator Plan, 'Pollinator-friendly management of Sports Clubs' offers 10 actions to help pollinators, ranging from reduced mowing on off-pitch grass to planting a native tree walking trail.
This guide is aimed at those who have responsibility for managing Sports Clubs and their surroundings. All these actions are evidence-based, i.e. scientific studies show these actions have a positive impact on pollinators. Pollinators need food, shelter and safety and fortunately many of the land management changes required are really simple. They are also often 'do-not' actions rather than 'do', so that there is no cost and nature itself does the hard work. There are actions for all types of clubs, and both rural and urban, regardless of how much outdoor space a club might have.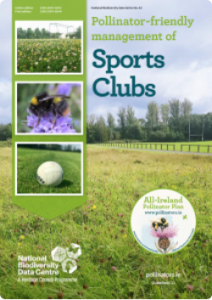 Helping biodiversity helps mental health
Making a site more biodiversity friendly also results in health benefits for humans. There is a growing number of studies showing the health benefits of spending time in biodiversity-rich areas. Walking in biodiversity-rich areas, such as woodlands or meadows, where people can see butterflies, bees and birds, has been shown to lower blood pressure, reduce stress, and help with concentration, attention, depression and anxiety. Creating grounds that offer opportunities for club players, children and community walkers to interact with native biodiversity in our sports clubs has real benefits for their mental and physical health.
5 ways to make Sports Clubs biodiversity-friendly:
A. Manage some off-pitch grass for pollinators.
(by reducing mowing to every 4 to 6 weeks or long-flowering annual meadows)
B. Manage existing native hedgerows for biodiversity.
(by allowing native hedgerows to flower each spring)
C. Plant biodiversity-friendly trees, shrubs and flowers.
Planting additional pollinator-friendly trees, shrubs, perennials and bulbs around the grounds provides vital sources of food, particularly in spring and autumn.
D. Reduce use of herbicides.
Adopt a pollinator-friendly pesticide code and protect local water sources. Consider strimming instead of spraying around fencing, goals and lights. Avoid spraying the base of trees or hedgerows.
E. Provide nesting places for wild bees.
(such as hedgerows, mud banks, drilled wood and bee hotels)
CLICK HERE or on the above image to go to the full plan